50 Drivers New Job Opportunities at Simba Supply Chain Solutions Limited SSCS Ltd
Simba Supply Chain Solutions Limited (SSCS Ltd)
Deadline of this Job:
22 October 2021
Duty Station:
Within Tanzania, Dar es Salaam, East Africa
JOB DETAILS:
VEHICLE DRIVING OPPORTUNITIES
Simba Supply Chain Solutions Limited (SSCS Ltd) advertises 50 job vacancies for truck drivers.
JOB RESPONSIBILITIES:
1. To drive the Company's freight car and deliver the intended customer on time in various places locally and abroad.
2. Supervise and coordinate loading and unloading of loads in accordance with safety standards.
3. Control of the safety and technical condition of the vehicle, inspect the vehicle before and after the trip, provide reports of errors or accidents in the order prescribed by the company.
4. Follow the travel plan prepared by the company under the Operations Department and focus on important things like (weight, roads, parking spaces as well as intervals
5. During compliance with the Company's rules, regulations, and procedures in operating and complying with the laws of the land involved in the operation.
QUALIFICATIONS OF APPLICANT:
1. Have a valid and valid Class E license that has not expired.
2. Must have attended basic truck driving training (HGV / HDV / GTD) offered by the Vocational Training Academy (VETA), National Institute of Transportation (NIT) or another Government Recognized College.
3. Have at least two years experience of in driving all types of trucks (pulling, Intersemi, interlink, dengue).
4. Have a valid passport that will be valid for the next 2 years.
5. A driver with a motor vehicle certificate will be considered first.
50 Drivers New Job Opportunities at Simba Supply Chain Solutions Limited SSCS Ltd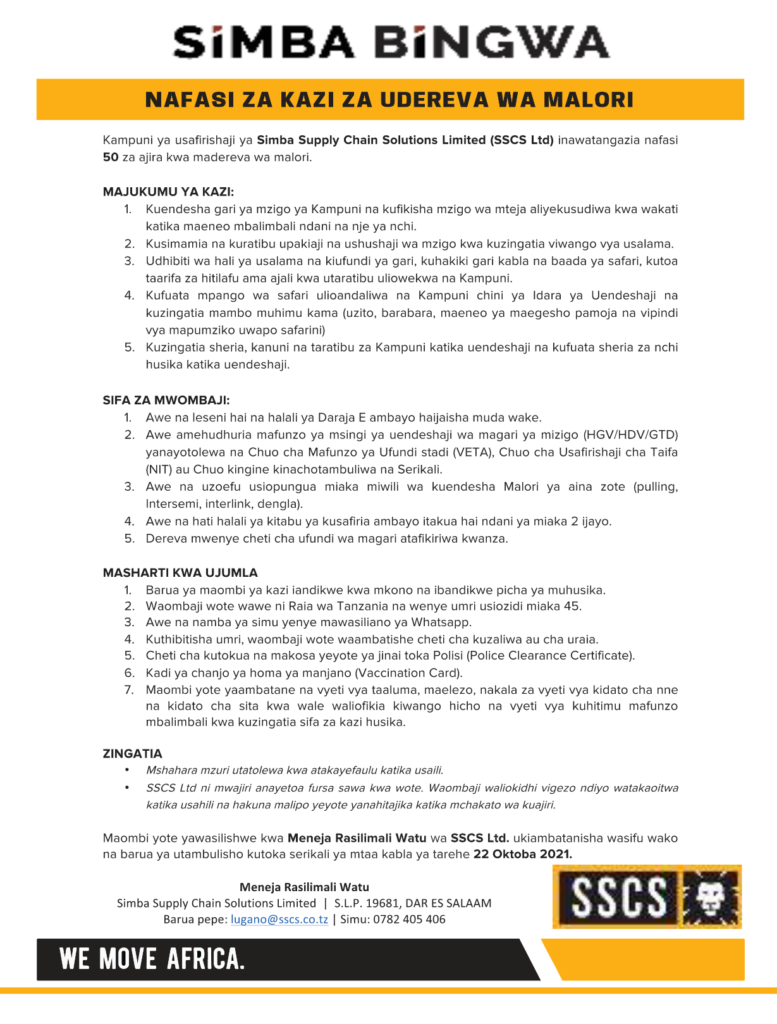 GENERAL CONDITIONS
1. A job application letter should be handwritten and a picture of the person.
2. All applicants must be Tanzanian Citizens and not older than 45 years.
3. Have a Whatsapp number with a contact number.
4. To prove age, all applicants must attach a birth or citizenship certificate.
5. Police Clearance Certificate.
6. Vaccination Card.
7. All applications must be accompanied by professional certificates, notes, copies of Form Four certificates, and Form Six for those who have reached that level with certificates of graduation of various training based on the qualifications of the relevant job.
NOTE
• A good salary will be awarded to the successful candidate.
• SSCS Lid is an employer that provides equal opportunities for all.
Applicants who meet the criteria will be named in simplicity and no payment is required in the recruitment process.
Education Requirement: No Requirements
Job Experience: No Requirements
Work Hours: 8
Job application procedure
All applications should be submitted to SSCS Ltd.
Human Resources Manager.
attaching your resume and letter of identification from the local government before 22 October 2021.
Human Resources Manager
Simba Supply Chain Solutions Limited
S.L.P. 19681,
DAR ES SALAAM
Email: lugano@sscs.co.tz

The deadline for submitting the application is 22 October 2021.