JOBS
ADMINISTRATIVE OFFICER II at Sokoine University of Agriculture (SUA)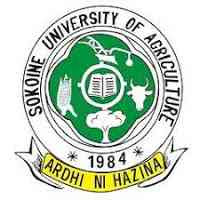 Jobs at Sokoine University of Agriculture (SUA) – Morogoro | NAFASI ZA KAZI CHUO KIKUU CHA KILIMO SOKOINE (SUA) MOROGORO
Applications are invited from suitable qualified Tanzanians to fill the following vacant positions below under the Bureau of Agricultural Consultancy and Advisory Services (BACAS) based at the Sokoine University of Agriculture (SUA).
POST: ADMINISTRATIVE OFFICER III – 1 POST
POST CATEGORY(S): HR & ADMINISTRATION
EMPLOYER: Sokoine University of Agriculture – SUA
APPLICATION TIMELINE: 2020-05-07 2020-05-21

JOB SUMMARY N/A
DUTIES AND RESPONSIBILITIES
i. Assisting in the administration of Office Management, Human Resource Management, Employment and Labour relations and Staff welfare;
ii. Assisting in Human Resource training and development;
iii. Assisting in Human Resource Planning;
iv. Assisting in annual staff appraisal exercise;
v.Assisting in preparations of various reports;
vi. Assisting in the administration of recruitment and staff allocation;
vii. Assisting in preparing records regarding staff leave and seniority list;
viii. Assisting in collecting, analyzing and presenting Human Resource statistics;
ix. Assisting in coordinating all HR and Administration Seminars, workshops and related training programmes;
x.Assisting in coordinating staff welfare matters;
xi. Ensuring the clean-up keeping of Office and working premises, in general, are maintaining the status;
xii. Assisting in making travel arrangements for the Management and other staff;
xiii. Ensuring timely preparation of travel, accommodation, and payment of allowances to those proceeding on training;
xiv. Assisting in administering conditions of service; and
xv. Performing other related duties as assigned by the relevant authorities.

QUALIFICATION AND EXPERIENCE
Bachelor's degree in Management and Administration; with a bias in Human Resource Development and Planning, Human Resources Management, Public Administration, Business Administration/Commerce majoring in Human Resource Management.
REMUNERATION
As per Treasury Registrar's Circula