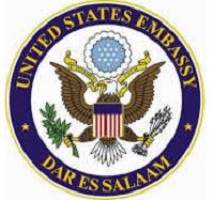 Job Opportunity at U.S. Embassy – Information Assistant (Digital and Social Media)
Information Assistant (Digital and Social Media)

The U.S. Mission in Dar es Salaam is seeking eligible and qualified applicants for the positions below.
Position Title: Information Assistant (Digital and Social Media)
Vacancy Number: Dar es Salaam-2019-045
Duties
MONITORING AND ADVISING 40%
Monitors Electronic and Social Media sources daily to keep abreast of and engaged in the ongoing development of the digital media environment. Identifies influential voices, commentators, and trends, and advises on the content and tone of the Tanzanian online space. Recommends influential, credible voices on areas of mutual interest that could serve as mutually-beneficial interlocutors on priority topics of concern for the U.S. government. Creates a network of online influencers, digital media advocates, and online stakeholders. Facilitates meetings within this network for American officers as appropriate.
Identifies news stories online, including breaking and new developments, and shares the stories with the press team for timely dissemination. Suggests stories, editorial cartoons, and other online content for inclusion in the daily news clips and summarizes the stories in English for inclusion.
Requires extensive and ongoing professional development, and a constant presence on major and emerging digital media platforms to assess their value, potential, and rules of engagement. Seeks out appropriate training, seminars, and workshops.
COMMUNITY DEVELOPMENT 40%
Designs and implements U.S. Embassy Dar es Salaam's social media strategy to support the U.S. Embassy mission: Advance U.S. foreign policy goals in Tanzania and the East African community by informing and influencing the Tanzanian public. Coordinates a cohesive and effective digital output and online presence. Must identify the target audience for each digital platform and continually strive to establish an active and interactive online community. Must keep abreast of digital media developments, both in the U.S. and on the African continent, and use that knowledge to adjust U.S. Embassy media output and platforms as necessary. In addition to setting up and maintaining U.S. Embassy digital platforms, must define performance indicators and use them to create regular reports for the Public Affairs Section and Embassy Front Office. Creates an annual analytical report to assess and update strategy and inform our stakeholders.
Curates U.S. Embassy social and digital media platforms daily. Currently, these include Facebook, Twitter, Instagram, SoundCloud, YouTube, and Flickr. In addition to soliciting content from other Embassy sections, strategizies, plans, and updates the social media posting calendar. Researches, selects, and/or creates original compelling content featuring U.S. government or Embassy products using knowledge of post's integrated country strategy, the U.S. government's Africa strategy, and Tanzanian history, culture, political and economic realities. Ensures that all content supports the U.S. Strategy toward Sub-Saharan Africa. Drives interaction with online audiences by initiating conversations and responding to comments. Ensures that platforms' Terms of Use (TOU) are respected.
CAMPAIGN DESIGN AND ENGAGEMENT 15%
Recommends advertising, programmatic, time-bound, and/or topical campaigns to increase platforms' fan-base in accord with the U.S. Embassy Dar es Salaam's Social Media Strategy. Defines campaign's format, duration, content, and audience. Evaluates cost and requests funding. Liaises with Embassy stakeholders and outside contacts to set up the campaign. Monitors campaign's budget and follows through the entire program from start to finish. Evaluates and reports on campaign's effectiveness.
SUPPORT 5%
Writes highlights, Mission Activity Tracker (MAT) and monthly and annual analytic reports on U.S. Embassy digital media
engagement and programs. Provides information regarding online response and engagement in support of ongoing reporting, and data as requested for the monthly Strategic Engagement and Communications Working Group.
Collaborates closely with and serves as backup photographer, graphic designer, webmaster, and audio-visual content creator.
Job holder will perform other duties as assigned.
Requirements:
EXPERIENCE: Must have four years of progressively responsible experience in public relations, content creation, digital media production, or social media curation, including some experience working with analytical tools is required.
Education Requirements:
A bachelors degree in marketing, advertising, journalism, business, public relations, mass media, or communications is required.
Evaluations:
LANGUAGE: English Level IV (fluency, reading/speaking/writing) and Kiswahili Level IV (fluency, reading/speaking/writing) is required. (this may be tested)
EQUAL EMPLOYMENT OPPORTUNITY (EEO): The U.S. Mission provides equal opportunity and fair and equitable treatment in employment to all people without regard to race, color, religion, sex, national origin, age, disability, political affiliation, marital status, or sexual orientation.
Qualifications:
All applicants under consideration will be required to pass medical and security certifications.
Benefits and Other Info
Benefits:
Agency Benefits:
The U.S. Mission in Dar es Salaam offers compensation package that may include health, separation, and other benefits.
Other Information:
HIRING PREFERENCE SELECTION PROCESS: Applicants in the following hiring preference categories are extended a hiring preference in the order listed below. Therefore, it is essential that these applicants accurately describe their status on the application. Failure to do so may result in a determination that the applicant is not eligible for a hiring preference.
HIRING PREFERENCE ORDER:
AEFM / USEFM who is a preference-eligible U.S. Veteran*
AEFM / USEFM
FS on LWOP and CS with reemployment rights **
* IMPORTANT: Applicants who claim status as a preference-eligible U.S. Veteran must submit a copy of their most recent DD-214 ("Certificate of Release or Discharge from Active Duty"), equivalent documentation, or certification. A "certification" is any written document from the armed forces that certifies the service member is expected to be discharged or released from active duty service in the armed forces under honorable conditions within 120 days after the certification is submitted by the applicant. The certification letter should be on letterhead of the appropriate military branch of the service and contain (1) the military service dates including the expected discharge or release date; and (2) the character of service. Acceptable documentation must be submitted in order for the preference to be given.
** This level of preference applies to all Foreign Service employees on LWOP and CS with re-employment rights back to their agency or bureau.
For more information (i.e., what is an EFM, USEFM, AEFM, MOH, etc.?) and for additional employment considerations, please visit the following link.
HOW TO APPLY:
Applicants MUST follow instructions in the notice on the website:
Failure to do so will result in an incomplete application.
Previous applicants do not need to reapply.
Only Shortlisted candidates will be contacted only via email.
CLOSING DATE: December 4, 2019